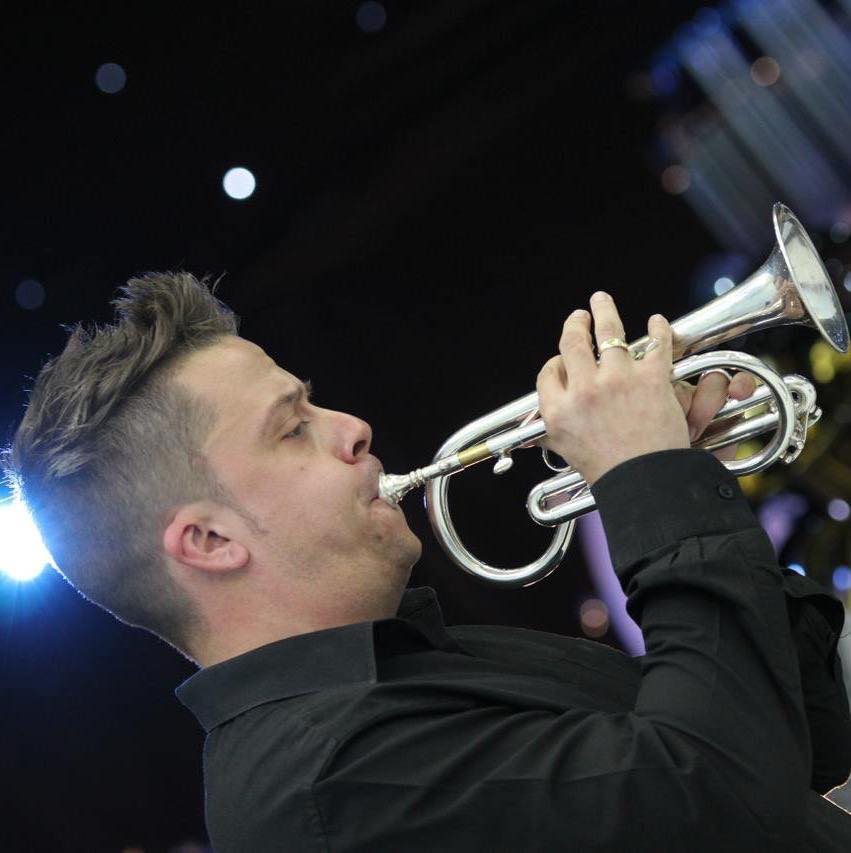 Soprano Cornet player Simon Wilkins has one of the hardest seats in the band. As a professional singer Simon is no stranger to the stage and the spotlight, which is a good thing considering the soprano cornet seat is one of the most exposed in the band.
Simon started playing at age 13. His first instrument was the Euphonium but he moved onto trumpet after 18 months as the trumpet was lighter to carry backwards and forwards to school. This turned out to be one of the best moves he made as he became a strong and sure cornet player. His first band was Blidworth Welfare Band, a now Championship section band. During this period he was motivated and trained by Geoff Hawley who encouraged him to progress as a Soprano Cornet player, and who has been a huge inspiration and role model for Simon throughout his entire playing history.
At age 19 Simon moved to Thoresby Colliery Band where he played Repiano and 2nd cornet. It was during this time that he experienced his biggest musical achievement by playing at the Championship section National Finals with Thoresby and winning the title for the year 2000.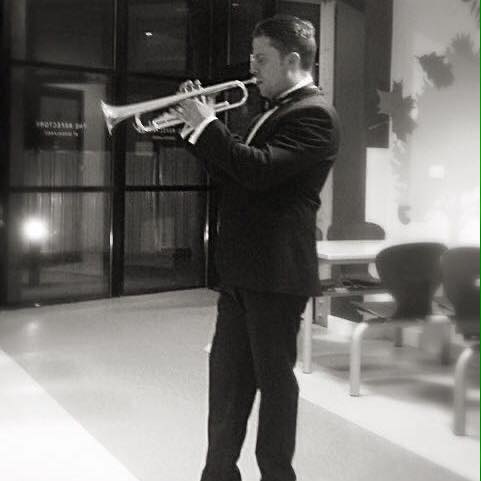 After this Simon continued to play Repiano cornet with Newstead Brass and then moved back onto Soprano when he joined Kirkby Colliery Band. During this period he progressed further as a Soprano player and spent time raising his two children with his wife and nurturing a good career. He has been playing with Ibstock Brick Brass for 6 years and has more than earned the nickname 'Super Sop'. Simon is part of the Ibstock Brass Band committee and a valuable member of the team. In addition to being a great motivator and organiser, he also has great sense of humour when it comes to social media marketing!
Since his mid twenties Simon has also spent time developing his vocals and his music career, efforts that have made it possible for him to become a professional full time singer and entertainer. He now has a popular show under the name Matt Symons as well as a Robbie Williams and a Freddie Mercury Tribute show, both of which are extremely successful.